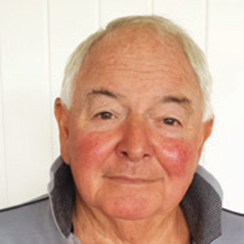 During summer, to earn a bed in Gerry and Sue's Lorne house you have to either swim in the Pier to Pub or run in the Mountain to Surf.
This year within the family, three grandchildren and three parents completed the run. Four did the swim including Sue, who chalked up her 20th event.
The Lawsons have come to Lorne for holidays from their farm in Deniliquin but since Gerry 'retired' two years ago they have been coming more often. Gerry enjoyed recalling memories of 'unbelievable' times spent in his late teens at The Wild Colonial Club and at The Arab. He bought his Lorne house about twenty years ago and with three children and five grandchildren, it gets plenty of use.
He was a country boy for the first ten years of his life until he moved to Melbourne to complete his schooling. After studying at Agricultural College he worked as an agronomist with CSR and a fertiliser company before at age 28, bought a rice farm at Finley in NSW. Then he bought a bigger rice farm at Deniliquin where he has been ever since. His keen interest in rice resulted in him becoming Chairman of The Rice Marketing Board, of Sun Rice and other food companies over a period of 25 years. He was awarded an Australian honour (AC) for his dedication and service to the rice industry.
After rice, his passion is racing cars. One of a collection, a Lotus 11 Le Mans 1957 was parked under the house barely cold from racing on the Phillip Island racing track. He loves golf and plays with Sue or his mates every day he is in Lorne. He buys and reads all the daily newspapers. He is a member of the Country Club, The Aquatic Club, The Men's Shed and supports the Footy Club.
Gerry has travelled extensively for business and leisure but "There is nowhere better than Lorne and what I especially love is not having to put up with all the hassle at airports to get here. "