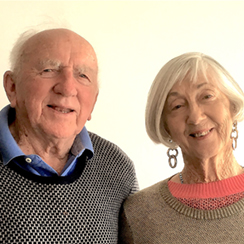 John joined the Police Force at age 19 after unsuccessfully applying to be a cadet patrol officer in NT. "It was just as well because I couldn't ride a horse anyway!" His career of 30 years was served in Melbourne and Bendigo.
Tess, a graduate of Bendigo and Melbourne Teachers College, enjoyed a long teaching career, retiring only when she was 65. She loved the year she taught in Nauru in 1958 when it was a peaceful location. Tess met John while at college and they married in 1959. They produced five children who have blessed them with 14 grandchildren. Tess and John love their involvement with them all.
Both visited Lorne in their youth during the halcyon days of the Guest Houses in summer. Though they attended the dances each put on, they didn't come across each other. John stayed at Yendoloch, Tess at Kalimna and later on at Carinya. Tess recalls working one year as a waitress at the Pacific Hotel in 1954 when it was owned by Ron Todd. "We were not allowed to enter through the front entrance, mix with the guests or go to any of the dances". She remembers how the fishermen would come to the kitchen every day and show their catch to the chef to choose what she wanted. "Many of the fish were still wriggling".
Tess and John have lived in Bendigo since 1973 when John was transferred from Melbourne.
Holidays are spent in Lorne at Mantra where their son has accumulated enough accommodation for the extended family to be able to enjoy special times together.
John is a one-eyed St Kilda supporter. Tess "loves" going to the races and is a member of a book club.