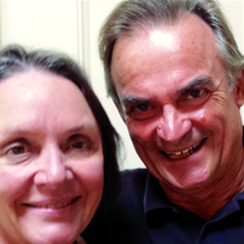 In 1957, in the days when the Great Ocean Road was narrow and without guard rails, Chris's father towed a caravan from Melbourne home to Adelaide via Lorne. Chris recalls the experience as terrifying. Once old enough to own a sports car his attitude changed somewhat.
I grew up as an "angry young man" in the "beat" era. I was a trendy university drop out complete with beret, cords and desert boots – and with music becoming a major interest. He says he reached a turning point in his life with the arrival of the Beatles.
Chris had always wanted to be a writer. His attempts to find work as a journalist were unproductive so I fell into advertising. He charts the course of his successful career from Adelaide, Sydney, Melbourne, Kuala Lumpur, London, Singapore and back to Melbourne. A highlight during this journey included creating the entire advertising program for the launch of Malaysian Airlines – from toothpick holders to cinema commercials.
In 1972, I wanted to explore the "counter–culture". I decided to go to the UK, where I was born, and live on a farm and write. I earned five pounds a week. I went to Morocco in a van for a time but returned to London to find work. While freelancing there Chris was recruited for a job in Singapore with Leo Burnett remaining there until he was head hunted back to Melbourne.
Chris's' wife, Rosemary, was an accountant and pay mistress in that office and yes, they married and have lived in Melbourne ever since. In 1986 they bought land at Big Hill and built a holiday house they enjoyed for ten years before selling and moving into the town. They enjoy supporting community activities when they can.
Rosemary, a country girl, finished her schooling in Melbourne then went to university to study law. Finding it wasn't for her, she left and qualified as an accountant. Although she still works part time, the Ralphs spend three or four nights every second week in Lorne. Their two children and two grandchildren consider the Lorne house as their own, visiting regularly. Rosemary's interests are cooking and gardening.
In retirement Chris is busy. His passion is racing historic cars and as a balance, yoga and meditative Eastern philosophies.