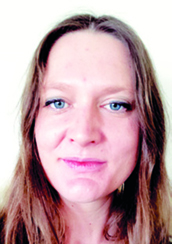 Some people encounter a teacher during their education who makes a significant difference to their life. Anna came across the author and scholar Tracey Banivanua Mar who taught 'Aboriginal and Pacific Islander Histories', an Arts Degree subject at Melbourne University. "She profoundly transformed the way I saw the world and myself in it."
Anna's family moved to Lorne when she was three. She was educated in Lorne from kindergarten to Year 12. She especially loved drama and art and speaks fondly of the way the school and her family encouraged her.
She went to university with the idea of becoming an artist and actress. In the most honest way, Anna spoke of how she soon felt confronted with her inability to critically engage with the world, leading her to change paths and pursue subjects that might help her to understand it better. "The most transformative thing that came from this was the shock of a newfound knowledge of history and the deepest feeling of responsibility to live my life accordingly. To do all I could from that moment on to ensure I wasn't complicit in perpetuating the wrongs of the past".
Anna continued her study earning an Honours degree in History under the supervision of Dr Banivanua Mar. She recorded over twenty oral history interviews with Lorne locals titled 'The Aboriginal History of Lorne, My Community's Knowledge' from which she produced the thesis 'Identifying the Gadubanud Narrative'.
Besides University, Anna spent a decade in Melbourne doing various day jobs while "I pursued the things I truly believed in with grass roots community organisations, activists and social justice initiatives."
In 2016, she moved back to live with her family in Lorne and began working at the Bowls Club restaurant. Wanting to help extend the use of the Club and bring the community together, she and two friends started Monday Night Music – a not for profit event that welcomes regional musicians of all genres, ages and diversity.
Since the age of 13, twenty years ago, Anna's hobby has been taking 'home movies'. She is currently combining this self-described "obsession" with her passion for art, history, knowledge sharing, social justice and social responsibility, by working towards becoming a documentary filmmaker.