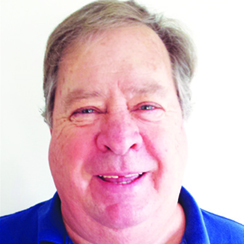 By Christmas, the adventurous amongst us could well be swinging in the trees at Chris's and his son, Luke's, Live Wire Park at the back of Lorne. Having obtained all the government permits and community approvals required, they are on standby to begin construction.
How does one arrive at an idea to do this? Chris was sitting on a Committee for Lorne sub-committee looking at affordable housing in Lorne when it occurred to him, out of season activities would be essential to help such a scheme be sustainable. A friend on the Peninsula had created a tree rope course which was enjoying enormous success so when Chris approached him about his idea for Lorne he received enthusiastic encouragement. After further support came from conversations with locals and friends, Chris and Luke formed a company, Live Wire Park, Tree Adventures and for the last five years have been planning the project. They are excited about their opportunities to employ local people and the contribution they hope their business will make to the economy of our town.
Chris has wide experience in business, not least in the family's 69 year long commercial refrigeration company which he joined when he left school. He has also been involved in property development mainly in inner Melbourne.
As a nephew of Lornites Gloria and Rusty Norton, Chris has known and loved the region for a long time and his wife Ruth's family has a long connection as well. They had three children and now have six grandchildren who are regular visitors to their home, built to accommodate them all. Lorne is their permanent address as it will soon be for Luke too, once the project gets under way.
Although Chris has enjoyed overseas travel in the past, further trips could be on hold until their tree adventures are up and running.
See you in the trees!