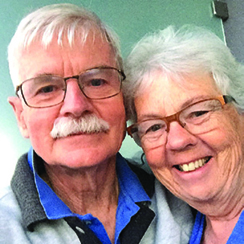 At school, Colin thought about becoming an astronomer. When the time came to decide on his future, he chose medicine instead and specialised in radiology. Most of his career has been in Melbourne except for a year in Papua New Guinea, two years in Canada and 16 years in Geelong. He is a strong believer in the value and importance of living and working overseas, to be exposed to a different perspective of life.
Moira taught until she began having their three children. She has always been interested in craft and over the years has done many short courses. Loving study and purely for self-interest, she went to university after the children had grown up and earned a Bachelor of Education, a Bachelor of Arts and a Diploma of Visual Arts. That represents serious commitment from someone who describes herself as impatient. Moira loved to play tennis but since her two hip replacements, her preference has been for croquet.
As a student, Colin played tennis and baseball. With seven grandchildren, much of the Styles' leisure time these days is spent involved in their activities.
Moira and Colin's connection to Lorne is a familiar story. When they lived in Geelong, they visited friends in Lorne and as often happens, they fell in love with the place. They eventually bought a block of land at the back of the town, on an unmade road where there was only one other house. After three years, they commenced building.
Just moving back in after renovations they are looking forward to spending more time down here. Not quite retired, Colin is thinking about the travel, the writing and all the new and different things he wants to try then. Lorne sounds just the place.