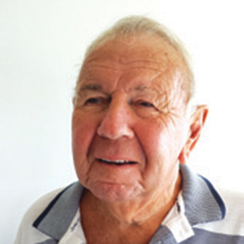 Even though most people associate Don with real estate, it wasn't ever his intention to have it as a career.
It came about from being in the right place at the right time – but by accident. It's a long story but it began with him running the Saturday lobster spinning wheel for the Lions Club outside a real estate office at 136 Mountjoy Parade. Suffice it to say Don suddenly found himself with a business he knew little about, went to night school as a mature student to gain a licence and by 1974 had purchased the freehold and started the firm Lorne Real Estate Pty Ltd. By 1985 after more study and gaining a full licence he became Chairman and Officer in Effective Control of the company. He resigned in 2000.
Don has three sons and his grandchildren represent the sixth generation of his family in Lorne. His great grandfather came to Lorne in 1882 as a blacksmith. His father, born in 1902, started Kalimna Guest House, where after completing national service in 1952, Don commenced work. He cites this as the year his lifetime involvement in the accommodation industry began.
As well as managing Kalimna he purchased property, built motel units, extensions and home units. Already a passionate fisherman he also furthered his interest to include a professional fishing and research company, Stewart and Barwell, operating eight vessels in Southern Australian waters under contract to Federal and State Governments. His says his most successful (profitable) fish story is the one about his company not being able to catch enough pilchards and anchovies to package and satisfy the need for anglers bait.
Since the 80's, Don has been involved with widespread development and management of holiday accommodation throughout Victoria, has and still serves on several boards. In 1994 he commenced building homes in Geelong and created the company, Masir Homes with Robyn Jorgensen.
Don was a foundation and now life member of Lorne Surf Club, served for 14 years with the Lions Club, a member of the Lorne Country Club, ten years on the Foreshore Committee, ten years with the Chamber of Commerce, CFA member for 15 years and played over 200 games with the Lorne Football Club.
Although 82 he is too active to call retired and is as passionate about Lorne as he ever was.