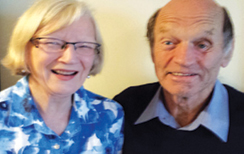 Geraldine and George loved their inner city lifestyle and being able to walk to the CBD but craved a break from the busy and sometimes noisy environment. After some memorable holidays with friends they decided Lorne was the escape for them. In 1993 they bought a house.
Right from the start they became involved with the community. Their two children started in the nippers program and progressed to doing beach patrol. They are members of the LSLSC, initially making rolls and sandwiches for Pier to Pub. They support events for Lions and the netball and football clubs. They not only help with the Mountain to Surf run but George competed in the super veteran category and has trophies on the mantel piece as proof. They also love dancing and happily attend musical and dancing events. They recently became members of the Aquatic Club. Geraldine volunteers for a week during the Lorne Sculpture Biennale.
Geraldine was a teacher and George a statistician. They have been running their own business for many years, OR Systems P/L (Operations, Research and Statistical services). In the 1980's they invested in two commercial properties in Fitzroy, in which they created studio spaces for artists.
They share an interest in theatre (in fact they met at a cast after party), art and visiting galleries, playing cards, bush walking and keeping fit. Geraldine loves to read. They enjoy travelling within Australia and Asia, however this year it will be Africa.
"We come as often as we can. We have the most enjoyable times with family and friends in Lorne ."