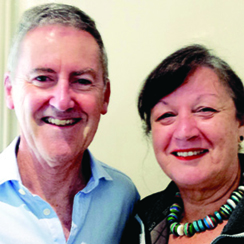 Once Graham started work, his father gave him the choice to have a serious savings plan or pay board. By 1969 he had saved enough to put a $300 deposit on a cottage in Lorne that cost $7,200. His father helped him arrange a loan for the balance.
Lorne has been a significant part of his life ever since. First with his own family, then after meeting and marrying Brigitte and having children, Lorne became the centre of their own family's life as well, participating in the Nipper programme and Life Saving. "The boys have never known anything different. They thought all roads led to Lorne, so much so that as youngsters on the way to the snow, one son asked, Is this a different road to Lorne?"
Graham studied and worked in the Melbourne financial world. His career started on an exciting note working for a Share Broker through the Poseidon boom, later working with JP Morgan with whom he spent most of his working life. Currently he is working for Uniting Church Funds Management. Besides Lorne, Graham is passionate about running and skiing. For the last 10 years he has run the City to Surf in Sydney. He has a personal trainer and goes to the gym.
German born, Brigitte arrived in Melbourne aged five. She completed her education and worked as a Dental Nurse before taking time off to be at home with their children. Once they completed school she resumed work, but this time as an Office Manager for a surgeon. "I married Graham for his dinner parties. He was a fantastic cook but he stopped as soon as we were married."
Her interests after Lorne time are cooking, knitting and skiing. The family has skied in Europe and Canada. She has swum the Pier to Pub three times, the first for a bet to win six bottles on Moet. "It's too cold now ". Of course there have been renovations and landscaping to what can hardly be called a cottage anymore. The house has had a 40th anniversary party, but this year, Graham will be celebrating his 47th summer in Lorne.