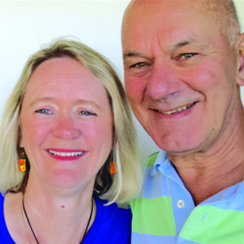 Both Michael and Heather's first connection to Lorne was through their parents, who coincidentally had both spent their honeymoon here. Michael says he wasn't born in Lorne but might well have been conceived during that time! However, it wasn't until he was in his teens that his family began renting a house each summer for three weeks over Christmas. Two of his most enduring memories are learning to drive in front of the Wild Colonial Club and New Year's Eve celebrations.
Born and educated in Melbourne, Michael graduated as an engineer and spent many years of his career with Mobil Oil. He travelled extensively throughout Australia and South Pacific, including moving his family regularly interstate and to Port Moresby. When he returned to Melbourne twenty years ago, Michael wanted to replicate for his family what his parents had provided for him. The cycle of renting in Lorne for family holidays began again. After several years renting, he bought his own house. "The children and grandchildren have first priority to use it for school holidays and we fit around their needs for these times. However, Heather and I come as often as we can, and we use Lorne as a hub for visiting throughout the Otway region."
Heather's family roots are on "the other side" and was only introduced to the area by Michael, five years ago. Her qualifications are in educational leadership. She recently retired from a career in academic administration at Melbourne and Monash Universities. Michael has a passion for eating food and Heather one for cooking it. Heather loves opera. Michael doesn't. Heather likes nothing more than cooking with her favourite arias playing. Michael quickly learned that loud opera results in great creative dining and says his tolerance for opera has increased exponentially.
Both are committed walkers. They are regulars on all the bush walking tracks in the Lorne area. Much of their travel is planned around spectacular walking opportunities in Australia and overseas. USA, Canada and Japan are next in their sights.
"What we love about coming to Lorne is the contrast with our city life. As we start to come down more often we would like to be more involved in the community".
It was no coincidence that I happened to meet them at a Committee for Lorne forum.