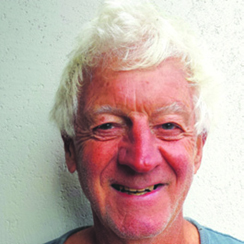 Ian, trombonist in the South Coast Stompers Jazz Band from the 60's playing at various surf clubs over summer and at the Wild Colonial Club in Lorne, has always had an affinity with the Surf Coast. Although when he was younger, a lot of his time was spent camping in Torquay, he has had a holiday house in Lorne for 18 years. After buying the property next door with the idea of eventually building his ideal beach house, it took years of planning. "I had too much time to think about it and feel I've over cooked it a bit. Kevin McLeod could have used my case on Grand Designs! Some of the dramas we had were a digger catching fire, snow, floods and road closures".
Ian, a Geelong born architect from what was then The Gordon, worked locally for two years before going overseas. He worked in various countries including, USA, Canada, Sweden and in the Bahamas – thanks to winning a competition to design a house for Sammy Davis junior. Sadly, in the end, Sammy decided to stay in Los Angeles but Ian enjoyed the experience and his company anyway.
After six years, he returned to Melbourne. He worked with renowned architect, Graham Gunn for two years, designing residential projects and the Torquay Surf Club before going out on his own. His work was mostly on the west coast and mainly residential including a unit development on a family block in Torquay. He is still in private practice today.
He married in the 60s and had a daughter, Jennifer, in Australia, a son, David, in Canada and "conceived twins, Michele and Melinda, in the Bahamas". He has eight grandchildren.
With a passion for surfing, lately more body surfing until the April cold sets in, he says 'recreational surfing' probably describes it better. As a 'yachtie', Ian has sailed in a race in Malaysia, around the Croatian coast and in the Tall Ships Event from Sydney. "Once I've finished this house I'm open
for travel thoughts." He enjoys gardening, sketching and painting and is looking forward to settling into his new studio.
He has been involved with the Lorne Surf Club since 'forever', supports Qdos and its activities and "put my penny's worth into the Pt. Grey development ".