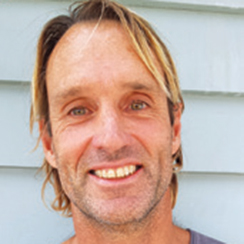 Whether you are a member or not, you couldn't help but have noticed the tall, handsome, bronze barista making coffee on the deck of the Aquatic Club over summer.
Jason not only makes great coffee but delivers it with lashings of cheer, indicative of his zest for living . The coffee cart, his latest venture is something he hopes to further develop over the next six months.
A Melbourne lad, Jason's lifetime connection with Lorne began when the town was still a village. When he left school, he worked with the ANZ bank where he came to appreciate there was a whole wide world "out there" to be discovered. So after two years he left, bought a combi van with a plan to work his way around Australia. He got as far as Mildura picking grapes in 40 degree heat and for very little pay. When he received an invitation to a friend's birthday back in Melbourne he gladly accepted. On returning to Melbourne a light bulb moment occured, due to his existing love of competing and training for running and triathlons he decide to take it on full-time and "give it a crack to be the best I could be."
He spent 12 years competing in events first at the state level, then the national level before attempting ironman contests.
His cash flow came from working in hospitality including management positions which set him up for the next adventure.
He sold up everything, bought two surfboards and set out on a journey to surf around Europe and Asia. That lasted until he ran out of money and returned home.
During the two years he lived in Portugal he met the woman he eventually married. Although separated now they remain strong friends. He returns to Portugal when he can to visit his extended family.
"I have worked at many jobs, mostly in hospitality but for 6 years on the Gold Coast I was an electrical fitter for a small company owned by a fellow I met overseas. I have always preferred to be with small firms for the personal contact rather than being a number."
Jason's day to day interests include surfing, being out doors and staying fit and healthy, music, writing and reading.