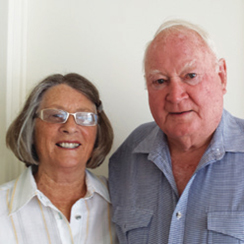 Not many of us can claim to be a member of an international body such as the Association of Cricket Statisticians and Historians.
John, a serious cricket buff from an early age (with an extensive library to prove it) played grade cricket in Hobart for three years while fulfilling the hospital commitment of his medical degree. After two more years at the Austin Hospital he switched to General Practice in which he stayed until retirement. Having to be on duty and work alternate weekends put an end to him playing cricket but golf quickly took its place.
Judith admits her interest in golf was largely connected to John's. Both have represented their clubs in pennant and John was awarded life membership of his. Judith has been Women's Club Champion three time at Lorne Country Club as well as President.
John met Judith at an RSL dance in Lorne in 1954, while on holidays as a third year student at Melbourne University. John's family has been part of Lorne since 1888. He completed his primary education at the Lorne School because his father was headmaster. He speaks of riding his bike to Jamieson River with his mates and walking up the very steep track and knowing firsthand the difficulties the CFA have had fighting the current fire.
Married in 1961, producing three sons and currently enjoying six grandchildren, they have lived permanently in Lorne for 15 years. Judith has been involved in Red Cross, the Lionesses and lately the Op Shop. John has been a Secretary of Lorne CFA for 8 years, on the board of the Lorne Country Club and on the Lions Retirement Village Committee.
They have travelled overseas but their first love is driving around Australia. Favourites are "off the beaten track parts" of the Kimberleys, Kakadu and the Flinders Ranges. Winter is not an issue for The Smyths. They simply escape to the Sunshine Coast for two and a half months every year.