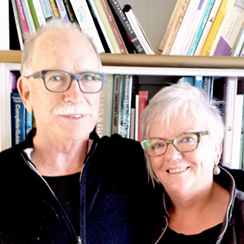 Three years ago, the Diviny's moved permanently to Lorne. Both had spent camping holidays here when they were young but without knowing each other. Years after, when Suzanne's parents bought an oceanfront block and built a beach house, their Lorne holidays continued. The house was lost in the '83 fires but quickly rebuilt in time for her mother's 60th birthday. In their retirement, her parents lived in it until they moved into the Lorne Nursing Home. It is the house Kevin and Suzanne live in today. In fact, they even first met nearby, at a neighbours New Year's Eve party in 1977, married in 1979, had two children and now have a granddaughter.
Suzanne's career was in sales, mainly in cosmetics and pharmaceuticals. Currently, she helps at Lorne Pharmacy when needed. She is a member of the newly formed Lorne Walkers Club, loves gardening, tennis, reading and has a library of cookbooks. "She is a brilliant cook" Kevin adds.
She is significantly involved in our community as Treasurer of the Lorne CFA and Facilitator of the Lorne Local Command Facility.
Kevin is a Polymer Scientist and has specialised in packaging. He runs a small consulting business from Lorne, part time. Tennis has been and is his passion. When they lived in Melbourne, he was President of Ormond Tennis Club and played in Lorne at weekends. Now he is not only on the committee for the Country Club but played in the winning doubles team this winter in the Geelong Tennis Competition.
Kevin has recently joined the SES, is a member of the Aquatic Club, the Bowling Club and the Book club. He is a gardener, a reader and enjoys music.
If the ecstatic disposition of their two dogs is a reflection of their owners, Suzanne and Kevin are exceptionally happy living in Lorne.