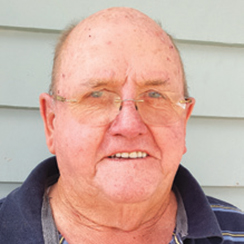 "I tried retirement for three years but I felt I was going stale" so for the past four years Leon has been driving the local school bus and loving it. Having some part time experience with school buses in Geelong when he and his wife were living there, he jumped at the opportunity when a vacancy for a bus driver came up in Lorne.
The Armistead family is synonymous with the town. Leon's family came first in the late 30's as saw millers. He grew up and went to the local school before joining the family business. When the business diversified and acquired the lease for firstly the Caltex Service Station then the BP, Leon took over the management. As if that wasn't enough but during that time, he was a member of the Lorne CFA and had his turn at Captain, drove the ambulance, was a charter member and president the Lorne Lions Club, secretary of the Cemetery Trust and treasurer of the Football Cub. Since he was also a licensed tow truck driver, it was no wonder he was known as, "The Hatch, Batch and Dispatch Officer". Because of his presence on the main street, he was often the first port of call in an emergency. It was difficult sometimes to know which hat he was wearing.
"I love the bush. I know I used to cut it down but today the science available allows proper management and makes it possible to cultivate and exploit the bush at the same time.
I love my dog, Reg and walk him daily. I love the outback but my work made holidays almost impossible". When he stops work he plans to take a real holiday.
He is married to Anna whom he met while she was working in Lorne in a summer job. He has three children and so far, 5 grandchildren.
He misses the old village feel of a small community but feels that the Aquatic Club represents the last bastion of that past. He has recently been elected vice commodore and is passionate about maintaining the friendly, welcoming ambience and being involved in the exciting future of the club.