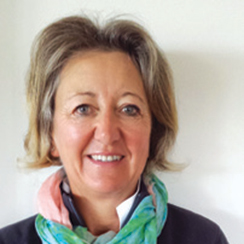 Lesley met Clive at a wine and cheese tasting night in 1980. After marrying and having two children they left for overseas where they lived for 23 years.
First in Singapore, then Auckland, back to Singapore, home to Australia for three years, then to Hong Kong before a posting in Jakarta followed by yet another period in Singapore.
The children were very young when they left Australia. They returned to Melbourne and boarding school to complete their secondary education. Apart from holidays, Lesley made many trips back to see them. On one of these holidays in Lorne, filling in time on a 42 degree day, Clive went house hunting, found one and bought it on the spot. Although now significantly renovated it is the same house they have been living in permanently for four and a half years.
"My parents brought the family to Australia as 'ten pound poms' in 1968." After school here, Lesley chose a career in the travel industry, first working as an intern with TAA in their wholesale travel area before moving to a domestic tour company.
Wherever they have lived Lesley has involved herself with Australian Associations helping newcomers settle in and to understand the local culture. She enjoyed her time overseas although at times it was stressful and she missed the children terribly while they were at boarding school.
Lesley learned to play golf while living in Jakarta, never imagining one day she would be president of womens golf at Lorne Country Club. She loves her golf and particularly the community of lady members. The club this year joined the Otway Pennant after a long period without a pennant team. Lesley also enjoys volunteering at the Lorne Information Centre once a week. She took painting classes in Singapore, continuing in Melbourne on her return but has little time at present to pursue that interest.
With Clive a councillor and also deputy mayor of The Surf Coast Shire, she says she has to make an 'appointment' to see him. She finds supporting him is a wonderful way of meeting people and is touched by the way they have been embraced by the wider community.