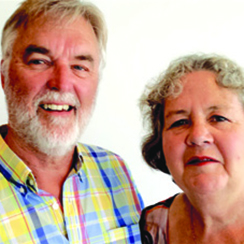 As many do, Mandy and Linton met in their work place – Maribrynong High School. Mandy, actually a librarian, but who spoke four languages, found herself assigned to teaching English as a Second Language when the Timorese arrived at the school. Linton's expertise was in maths and computers and taught those subjects in Melbourne for ten years, in Shepparton for 20 years (five years as Assistant Principal) and helping out part time in Lorne for ten.
After they married and were living in Tatura, Mandy took time off from teaching to care for their two children. When she resumed her career she taught French at Kyabram Secondary College before taking on teaching English to Iraqi refugees. She also took on learning yet another language – Indonesian.
Since childhood, Linton's family came to Lorne for holidays and rented accommodation. In the 60's his father bought the family holiday house, which eventually became the home Linton and Mandy lived in after retirement until they built a new one.
Their two daughters and their partners have produced two grandchildren for Mandy and Linton and all come to Lorne to visit regularly. Mandy loves to sew and knit and no doubt as a grandmother gets plenty of practice at both. Linton contributes to Lorne as a committee member of The Stribling Reserve and as a member of The Men's Shed.
During the summer you have probably seen him helping out at Foodworks in the liquor section or gardening at home. Mandy has worked at Lorne Beach Books and Lorne Diva.
They have enjoyed travelling in the past and hope to again in the future. They spend time regularly in Melbourne babysitting grandchildren and caring for Mandy's elderly mother. In Lorne they enjoy swimming and walking the dogs.