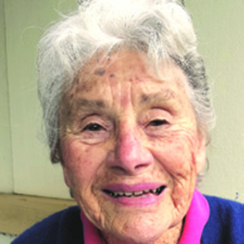 Loris is 93, and to become a pharmacist in her day, she had to start as an apprentice in her local "chemist shop" and study by correspondence for two years. Then it was off to Melbourne for a further two years, where she worked in East Kew while she studied at The Pharmacy College. Except for this time in Melbourne, Loris lived in Ballarat for 53 years.
After the war, she met and married Gordon, an Arts Diploma graduate of the Ballarat School of Mines. He had joined the RAAF and qualified as a W.T. Air Operator, serving in Darwin, New Guinea and Goodenough Island.
"His last posting was to The Duke of Gloucester's flight based in Canberra. The Duke was Governor General of Australia at that time."
The well-known Ballarat company, 'Lance and Yorke Radio and Electrical' was Gordon's next project. It was created with a partner who just happened to also be a radio amateur (aka Hams), a hobby Gordon enjoyed until his death.
Three years after they were married, Loris produced the first of four children, two boys and two girls. For the next 13 years, she chose to become a full-time housewife and mother, resuming work after that with occasional locums in Ballarat and later on in Lorne.
Forty years ago Loris and Gordon moved to Lorne, to the holiday house they had enjoyed for ten years. "For eight idyllic years we travelled Australia and overseas during the winter and spent our summers here." Then Gordon had a severe stroke. "With help from family, friends and our wonderful medical and nursing staff and carers from Lorne Hospital, I was able to care for him for the next 25 years. Seven years ago I was widowed."
Loris has 11 grandchildren and 10 great grandchildren. One son lives in Lorne but the rest of the family are spread between Melbourne and Apollo Bay. In recent years Loris has travelled to Laos, Cambodia, Thailand and Turkey.
Life is a joy for Loris. She is a volunteer at the Op Shop and the hospital. She plays Mah-jong, works out in an exercise group, is a member of the Lorne Garden Group and the Church. She loves books, films and television dramas. Then there's the Monday hospital bus trips….. "We are so lucky to have these on offer. To be old in Lorne is a privilege. "