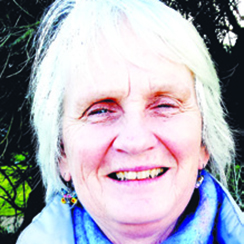 "I reckon you can live in Lorne and never wear a dress. It's so casual here". That was only one of the reasons Marsha gave for loving our town. "We are blessed with our ocean setting and having a perimeter protecting us from expansion".
Marsha came to Australia from Michigan, USA, when she heard there was a shortage of teachers in 1976. Her first appointment was to Mt Beauty, followed by Mildura then Melbourne. In 1979, she took a position at the Lorne School. She taught English and Commercial Studies for six years.
"I lived by a lake for most of my life, so with water in my genes, Lorne looked like a good place to stop". In 1985, she married Eddie. Marsha has had numerous community involvements beginning with treasurer of the first Lorne Community Association, 12 years as treasurer of the Lorne CFA, five years at the information Centre and lately helps out at the Church.
She is kept busy operating two holiday properties and walking her beloved 11-year-old border collie on the beach. Asked to name her passion she said border collies and kelpies. "In any spare time I enjoy reading historical and biographical books and I love BBC programs. The subtlety and humour of the English appeal to me far more than American humour. Oh and I enjoy my garden."
Eddie and Marsha have a caravan. Annually, they choose an area they haven't been to and just head off to explore. Marsha says her favourite places overseas are UK and South California and is planning to go to Italy and Poland shortly.