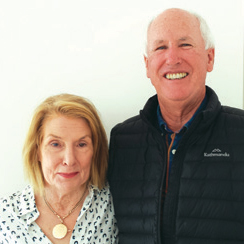 Tim bought into Geelong Toyota and Mercedes in 1991. "I'd never run a car business and it was like walking on egg shells at first." But as Geelong recovered from the Pyramid collapse, the business grew.
Both from central Victoria and having been sent to boarding school Mary and Tim followed quite different paths. Before moving to Geelong they lived and worked in Melbourne. Mary studied Law at Melbourne University followed by an Arts/ Social Work degree. After practising in a suburban law firm she moved to the city and worked in corporate law.
After leaving school Tim went back to the family farm for a time until his father asked him to join him in their Heathcote General Store saying it was time for Tim to learn about business. Very soon after, at aged 20 he became store manager. His mother decided if he was going to be in business he should go and study accounting. Off to night school he went.
In 1972 the store was sold Tim saw this as the chance to get back on the land and since he was planning to get married suggested that he and some of his brothers buy shares in the farm. The ten children in Tim's family made his father's decision too difficult. It was now time for Tim to go and make his own way.
Next stop, Melbourne, to finish his accounting degree and marry Mary. Through a series of tip offs from mates, Tim landed finance related work with Kevin Dennis as an accountant with Morley Ford and as an internal auditor with Chrysler before spending 14 and a half years with Toyota.
Although Tim has sold the business they still love living in Geelong, love coming to their Lorne house and travel regularly to visit children overseas. Tim golfs, sails, rides horses and hobby farms. Mary's passion lies in the Arts, entertaining friends and keeping fit, walking.