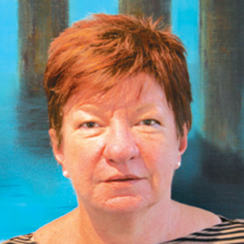 UK born Nicky met an Australian, Keith, in London, married him and in 1991 immigrated to Melbourne.
In 1996 Keith was offered a job in Sydney so the couple relocated north.
Although loving art as long as she can remember it wasn't until the family moved to Sydney that Nicky had an opportunity to study art formally. She attended Sydney College of the Arts for six years ultimately gaining her Masters in Visual Arts.
Having been a volunteer at the Lorne Sculpture Biennale in 2014 Nicky was happy to join the committee last year as 2016 Education Officer for the Deakin University sponsored Sculptor in Schools program. Schools participating were Surf Coast Secondary (Torquay), Lorne/Aireys Inlet, Apollo Bay, Trinity College (Colac) and Brauer College (Warrnambool). Participating students worked with an allocated exhibiting artist to produce a sculpture which was exhibited in Lorne during the second weekend of the Biennale. For many students this was the first time they had been exposed to sculpture as an art form.
At weekends throughout the event you may have seen Nicky assisting with the children's workshops on the foreshore run by Peter Day. Where would we be without volunteers like this?
Nicky is a painter. She has exhibited at Sculpture by the Sea in Bondi twice and has exhibited at Qdos. Her studio will be open in August for the Surf Coast Art Trail. She says after art her passion is cooking. She also enjoys live theatre and travel, especially to UK to visit family. She and Keith recently visited Vietnam and have plans for India which is next on the agenda.
The Perkins retired to the Surf Coast in 2013 having owned a beach house in Fairhaven for a number of years.