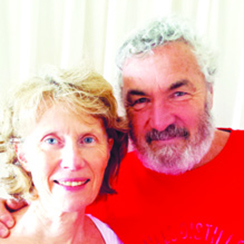 Paula's mother's grandfather was artist, Frederick Straw. He regularly stayed with the Mountjoys at Erskine House and painted the area around Lorne. A little further down from Erskine Falls, are some smaller falls named after him – Straw Falls.
When Paula was 18, her parents bought a house in Lorne. She and her three sisters spent memorable holidays there together with their friends. As they married and had children, the tradition continued until things began to get somewhat crowded. 25 years ago Wayne and Paula bought their own house. It became a place of peace and rest, disassociated with work and where they can talk, make plans and walk on the beach. They renovated the house so there's plenty of room for their family to come and stay.
Both are Melbourne born and actually went to school together. Paula studied graphic art at RMIT and taught for five years before having children. With a passion for plants, she once stood in front of a bull dozer, baby in arms, to stop natural vegetation being removed at Mt Martha. She won a compromise.
Wayne began studying architecture then switched to a building degree. His career has been building major commercial projects. When he sold his business, he bought a vineyard on the Mornington Peninsula. He says 'retirement' then became a non-event.
An award-winning footballer in his day, Wayne now gets exercise building granite structures at his home and the winery. Apparently he cooks a mean paella too!
The Judson family has travelled widely. When the building industry closed for Christmas, Wayne said they used to take off somewhere with the children – Italy being a favourite. Along with family their interests are hiking, camping, sailing, gardening and travel.
I can see why they come to Lorne to rest.