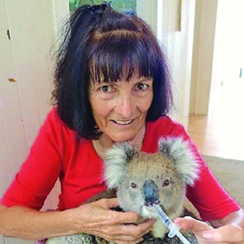 Some members of Lorne's combined Uniting and Anglican Church congregation believe Sherryl coming into their lives was the result of a higher intervention. She says, "I was picked up by the scruff of the neck and dropped in it."
Sherryl had been living in Wye River prior to the recent bush fire and had been filling in occasionally for then minister, Lynton Wade. After she lost everything, even her beloved cat, on Christmas day, the Lorne community embraced her. When Lynton retired soon after, it was a natural progression that she took over his post. "Things have worked out really well." Although the Manse is the fifth place she has lived in since the fire, she feels she has dovetailed with her congregation, describing them as "the most extraordinary group of supportive people, so full of life's experiences and skills, wisdom, knowledge and openness."
But Sherryl hasn't always been Reverend Smith. Born in NSW and educated in Albury, she graduated from the National Art School Sculpture Campus with a degree in Visual Arts. Completing a Diploma of Education, she taught art in high schools including Newcastle, Sydney, Hay and Albury before her involvement with setting up The Albury Regional Art Gallery and her own gallery – Gambrawatha.
She regularly took time off to travel overseas, including to Bangladesh where she worked with Terre des Homme, France, for six months as a community worker. "I taught women how to make chapattis with fish meal for greater nutrition and helped set up the "Bisic Design Centre" in Dacca for handcrafts.
Then after returning to teaching in Albury, marrying and having a son, she experienced "a strong conviction to study theology." Following placements in Parishes and time as an industrial chaplain she launched a Psychology Practice providing Employees Assistants Programs to public and private sector organisations, including Victoria Police. Thirty years later she began to long for her passions – design, wildlife and the environment. She extended her house in Wye River to include a studio and began designing pet accessories for factories in China. She learned Mandarin so she could converse with factory workers and material suppliers.
Sherryl was actively involved in the ' anticlearfell logging campaign' and with wildlife rescue and rehabilitation. In a world first, she designed special rescue equipment. She is excited about the potential St Cuthbert's location has to become a "Centre for Mission" – a community hub. Her vision includes landscaping, building temporary accommodation and a commercial kitchen to serve organisations like schools, youth groups, seniors, family reunions and other activities. Her congregation supports better use of the site, especially community outreach. With consultation well advanced, who knows what she/they will achieve?