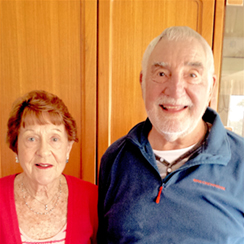 "The last time I died was two years ago," John tells me casually and goes on to describe the life-saving qualities of having his own inserted defibrillator. The last eleven years have been a challenge for him with heart issues but worse is the frustration of having to curtail his passion for participating in active sport and become a spectator. Apart from skiing, golf and AFL football, he now has soccer on his list because of a granddaughter in the Olympic U/14 Development Program in the USA.
Robin and John met at Hampton High School and went on to Toorak Teachers College together. John's first appointment was to Lavers Hill. They married 56 years ago, had three boys and now have five grandchildren.
Promotions throughout John's career led to a position as advisor to the Philippine Government on restructuring technical and vocational education. Another teaching highlight was an exchange year in Toronto, Canada. He was one of the six Australian teachers chosen to go to Canada on this one year initiative; the exchange included houses, cars and jobs, however not families, they went too.
In the 1970's, Robin and John were part of a group of 16 families who formed a cooperative to build a ski lodge at Falls Creek. Most were teachers but they intentionally included an architect, an engineer and a plumber. Chorki's Ski Club was the result. As well as themselves, it was planned to accommodate school groups. Interesting to note the first to use it was the Lorne School. Today, 20 families own Chorki's. It is run to the original formula now incorporating the following generations. All parents are known by their Christian names because when 'Mum' or 'Dad' was called, confusion reigned when all parents responded.
This amazing group also owns Springlea in Lorne, a summer holiday house run on similar lines. The children of these families are close; they have skied and surfed together from the outset.
Robin and John bought their own house in Lorne 26 years ago and have lived permanently here for 20 years. They escape north for part of every winter. Robin loves having family and long-time friends to stay. They enjoy travelling to North America to visit family but necessarily, more recently it's more around Victoria.
Robin describes themselves as 'political junkies'. They especially like to keep up to date with State and Federal affairs.