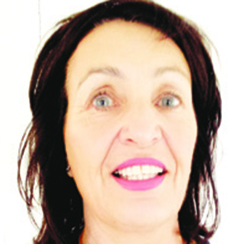 Ruth was six months old when she first passed through Lorne. Her father and uncle surveyed land in Separation Creek. Part payment for their work was one of the blocks they surveyed and on which her extended family built a substantial holiday house.
Melbourne born, Ruth had a sister and five brothers. Her mother decided she should go to a girls' school to make sure she had plenty of "girl" time. However her brothers came in handy during school holidays when she wanted to be part of the action in Lorne, as a teenager. She was allowed to come in by bus but one of her brothers had to take her home otherwise her father would drive in to collect her.
Ruth was a teacher before having a family. She had three children. When they were teenagers she spent ten years working as a volunteer with children with special needs and as an emergency teacher. Lifting children from wheelchairs eventually damaged her back but four years ago she underwent successful spinal surgery.
Sixteen years ago Ruth and husband, Chris, who has relatives living in town, bought a house in Lorne. Since then they have moved twice and now have a large house on a large block to accommodate their children and their families. Last year, a five star cubby house was built by two local builders for her six grandchildren to enjoy. "Weekends and holidays are crazy here. I need the week after to recover…… but I wouldn't have it any other way. I spend 80% of my time in Lorne now and love it".
Ruth loves walking on the beach and in the bush with a passion. She often takes the family to special areas that were childhood haunts in the Grey River area. She is a member of a patchwork group, book and movie groups in Melbourne and is looking forward to becoming involved in the Lorne Community. She has travelled extensively and also enjoys gardening, architecture, interior design and fashion.