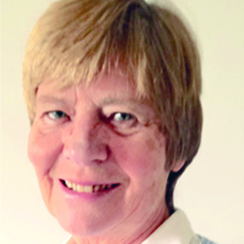 Sandra has been visiting the Surf Coast since 1973, having owned a family house in Wye River, and staying with friends in Fairhaven since University days.
After leaving full-time work several years ago, she decided to look for a house in Lorne. She had kept a watchful eye on the market for two years. Late last year, on a casual visit with grandchildren in tow, she inspected a property for sale. It was love at first sight for them all, the children confirming their approval by immediately selecting the bedrooms they would sleep in for holidays. Sandra sold her Melbourne house and gradually moved to Lorne.
Born and educated in Melbourne, Sandra says she only knew what she didn't want to do with her life so when she saw an advertisement about editing and publishing, a chord was struck. "I literally fell into a career in Educational and Academic Publishing''.
She managed international publishing companies which included Oxford and Cambridge University Presses, requiring her to travel overseas three to four months annually. "I have worked in many countries and have had a fantastic career but now I am looking forward to less roaming around the world."
A home on the coast was not the only acquisition Sandra made in recent times; she completed a doctorate in Australian Art History and Anthropology. This year she has written articles for the State Library of Victoria and the Northern Territory Government and is also a Visiting Fellow with the Australian National University, assisting current PhD students.
Work commitments still mean visits to Melbourne and, she hastens to add, to enjoy the pleasures of her grandchildren.
When not writing at her desk overlooking Loutitt Bay, she loves to walk in the bush amongst the gum trees. She is also keen to contribute to the community and has joined the Lorne Historical Society. You know what they say about getting something done – ask a busy person. Welcome Sandra!