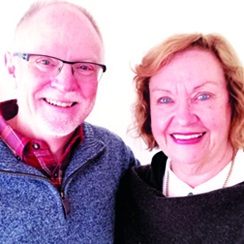 Tony's career as a dentist has extended far beyond Melbourne. He has been a volunteer with the Royal Flying Doctor Service, treating patients from remote rural Victorian and indigenous communities, as well as rural communities in Vietnam with Rotary. He has recently retired from clinical practice after working part time for the last five years and now limits himself to intermittent university teaching and examining.
Angela retired from teaching three years ago. "I have always loved children and figured teaching would fit well into my life when I had my own family. I have had a wonderful career." Straight after she retired Angela volunteered at Dandenong South Primary working with Afghani pre-schoolers and later, at Fitzroy Primary, assisting Somali families, both part of a Berry Street program. More recently she has tutored migrants in English at the Box Hill Salvation Army. These opportunities have been particularly rewarding she said.
Angela and Tony are adventurers. Over the last seven years they have travelled to the Arctic, Antarctic, Namibia, Botswana, Galapagos, they've walked in the Andes and closer to home, in Tasmania. They admit walking is a passion although Tony slips skiing quickly onto the list. They love the variety of walking tracks in the Otways and use them to train for their holidays. Angela also began a ladies' walking group twenty years ago, the next one based in Lorne. They have holidayed on the surf coast over many years, buying their own house in Lorne three years ago. They have two married boys and two grandchildren so far.
"We built on an extra room to accommodate the expanding family. None of us can get enough time in Lorne, but really enjoy when we can all be there together."
The Robertsons are regular theatre goers. Friends, family and grandparent duties keep them both busy. Angela is a member of a book group and a choir. Currently they are examining options for the future, like down-sizing and a tree change. They are keen to be involved in the Lorne community when they get to spend more time here.
"Lorne has the best of both worlds".