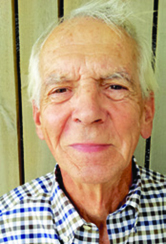 "One of the most satisfying things I have done was write an autobiography of my first 50 years. The words poured out for two years. When I finished It, my son persuaded me to make it into a book, just for family and friends."
Although born in Melbourne, Will spent his early life in the Otways, and is one of the few who can say they attended the Lavers Hill Consolidated School during its earliest years.
His career began with five years in the timber industry on the Otway ridges. After leaving the Otways to study business in Melbourne for several years, he spent the next eight years in management positions in the agricultural machinery industry in Warrnambool, Melbourne and Adelaide.
In 1960, he married Greta in Cola. Her family at Lavers Hill donated Melba Gully to the State Government for a National Park. Greta and Will had three children, one now living in Poland. In 1973, they moved to Bacchus Marsh, where Will set up a company as Victorian importer and distributor for a Danish manufacturer of crop protection equipment until 2002, during which time Will became a partner in the same type of importing venture in Queensland. A large residential subdivision project in Melton also kept him busy until 2004. Greta has been a dedicated community volunteer and contributor in Bacchus Marsh for many years in many roles.
The family have been coming to Lorne, to the holiday house they purchased in 1990, "as often as we can". Lorne has become greatly loved by several generations of the family.
Since resuming cycling at age fifty-four, Will has completed six Great Victorian Bike Rides, the last in 2013, and has made cycling tours in Austria and Vietnam. He has been a member of the Lorne Historical Society for nine years, including seven as Honorary Secretary, and finds great enjoyment in the fellowship of the members.
His interests include writing short stories, oil painting, Otway history, travel, family and friends, the fascination of this rapidly changing world and plenty of golf.
His motto : "Make the most of what you've got today."